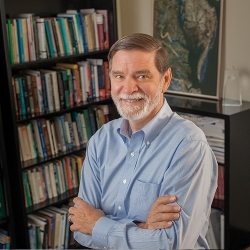 Robert Archibald
Chancellor Professor of Economics
"Great students and great professors make a great school. There is a wonderful symbiotic relationship here. Having the funds for endowed professorships gives us an important tool in attracting and maintaining a high-quality faculty."
A remarkable member of the William & Mary community of scholar-teachers, Robert Archibald is a recipient of the Thomas Jefferson Award (2010) and the Plumeri Award for Faculty Excellence (2014), and is the coauthor of 
Why Does College Cost So Much?
 During his time at the university, he has served as chair of the Department of Economics, as interim dean of the faculty of Arts & Sciences, and as director of the Thomas Jefferson Program in Public Policy. He also was the first faculty representative appointed to the Board of Visitors. Archibald's research has been funded by grants from NASA, the National Academy of Sciences and the Virginia Department of Education.