Scholarships
What's our number one priority, now and evermore?
As a top-ranked university in the U.S. with a 325-year legacy of achievement and excellence, it isn't surprising that William & Mary attracts some of the most academically-gifted students around the globe. However, financial need prevents too many of these highly able students from accepting admission. Through the university's Affording Opportunity scholarships effort, William & Mary is positioned to raise more funds than ever before so that every admitted student can have the opportunity to attend and reach his or her full potential without financial burden.

Scholarships are powerful; they change lives for the better. And they directly affect the caliber of William & Mary's student body, the quality of the academic experience and the prestige of the university. Every exceptional student admitted to William & Mary should have the opportunity to attend and to reach his or her full potential without financial burden. As part of our Affording Opportunity scholarships effort, William & Mary aims to raise $225 million for undergraduate scholarships support to ensure that the nation's most able students can benefit from the extraordinary and distinct education we provide.
Scholarships Impact Fund
Annual Report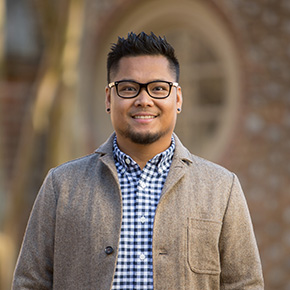 For many Americans, childhood conjures up images of innocence and carefree play. Growing up in the Philippines, Ferdinand "Poe" Makabata '20 had a far different experience.
His family was impoverished, a circumstance made far worse by his parents' separation when he was two years old. From that point, he lived with an aunt in the slums of Manila while his mother worked as a live-in maid elsewhere in the city.
His father was completely out of the picture. Resources were so tight that he had to sell rice cakes on the streets just to ensure he had lunch money for school.
But soon things started to look up for Makabata. After moving to the U.S. and serving in the military for several years following high school, he was ready to begin a new chapter of his life at college.
His journey at William & Mary started with a scholarship, all because of the generosity of donors like you who have contributed to the Scholarships Impact Fund. Read the 2019 Scholarships Impact Fund report.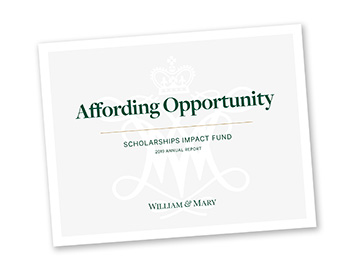 Affording Opportunity 2018 Thank You
To make a difference in the lives of students immediately,
please donate to the Scholarships Impact Fund today.
For more information about creating a named scholarship, see the Scholarships Naming Opportunities or contact the Office of Scholarships & Special Projects.
For further information about these and other opportunities to support scholarships, please contact:
 Suzie Armstrong '93 , 

Senior Director of Development for Scholarships and Special Projects

 757-221-7647