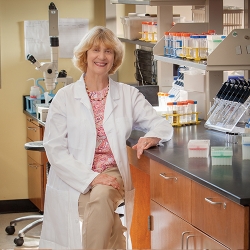 Margaret Saha
Chancellor Professor of Biology
"The unprecedented pace of discovery in 21st-century biomedicine stems from its dynamic multidisciplinary nature. At William & Mary, a culture of vibrant collaboration, combined with a cadre of enthusiastic, fearless and talented students, makes it easy and exhilarating for faculty to venture far outside of their disciplinary comfort zones. In fact, an eager group of computer science, mathematics, neuroscience and biology majors working on my team has allowed us to identify unique genes involved in the process of how the nervous system regenerates and heals itself and to characterize genes present in novel viruses discovered by students at William & Mary." - Margaret Saha
HOW DO WILLIAM & MARY FACULTY MAKE THEIR MARK ON THE WORLD?
With research that expands the boundaries of human understanding.
William & Mary's Virginia Institute of Marine Science (VIMS) was founded in 1940. It would go on to establish the Eastern Shore Lab in 1962, jump-starting Virginia's now multimillion-dollar hard clam industry. It has to date also restored nearly 5,000 acres of seagrass to Virginia's coastal bays, making it the most successful seagrass restoration in the world. Four of the 20 most prolific authors of oyster-related research are faculty at VIMS, while its graduates now lead the University of Maryland Center for Environmental Science, the North Carolina Division of Marine Fisheries and the Gulf of Mexico Research Initative.