WHAT IS AT THE HEART OF OF THE WILLIAM & MARY EXPERIENCE?
A community with drive to help others.

Combine the university's rich legacy as a service-minded institution with today's national movement toward civic responsibility, and we have a real opportunity to establish William & Mary as the hub for student-centered civic engagement. Therefore, we have set a goal of raising $10 to $25 million to establish a center dedicated to better preparing our students to serve their communities, to promote policy-related research and to convene national conversations on civic engagement.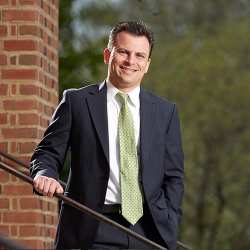 "Our university enjoys a strong reputation for civic leadership. Students and alumni alike clamor for emotional connection, intellectual stimulation and career placement, with service as a vehicle for each. Using alumni success as our model, William & Mary is positioned to assume an international platform for active citizenship. With support, we can emerge as the premier university for civic leadership."
 —Drew Stelljes Ph.D. '07, Assistant Vice President for Student Engagement and Leadership
Lewis B. Puller, Jr. Veterans Benefits Clinic
Not only does William & Mary have the oldest law school in the country, but it also has a long history of producing citizen lawyers committed to serving our nation and its veterans. The Lewis B. Puller, Jr. Veterans Benefits Clinic is just one example. At the clinic, law students like Thurgood Marshall Distinguished Public Service Award recipient William Burke J.D. '15, a former Lieutenant Commander with the U.S. Navy, assist veterans with filing claims for disability compensation. Additionally, William & Mary Law School partners with Virginia Commonwealth University's Center for Psychological Services and Development to help our nation's veternas address health and disability concerns.
 Mark L. Begly , 

Associate Vice President for Development and Campaign Director

 757-221-1370