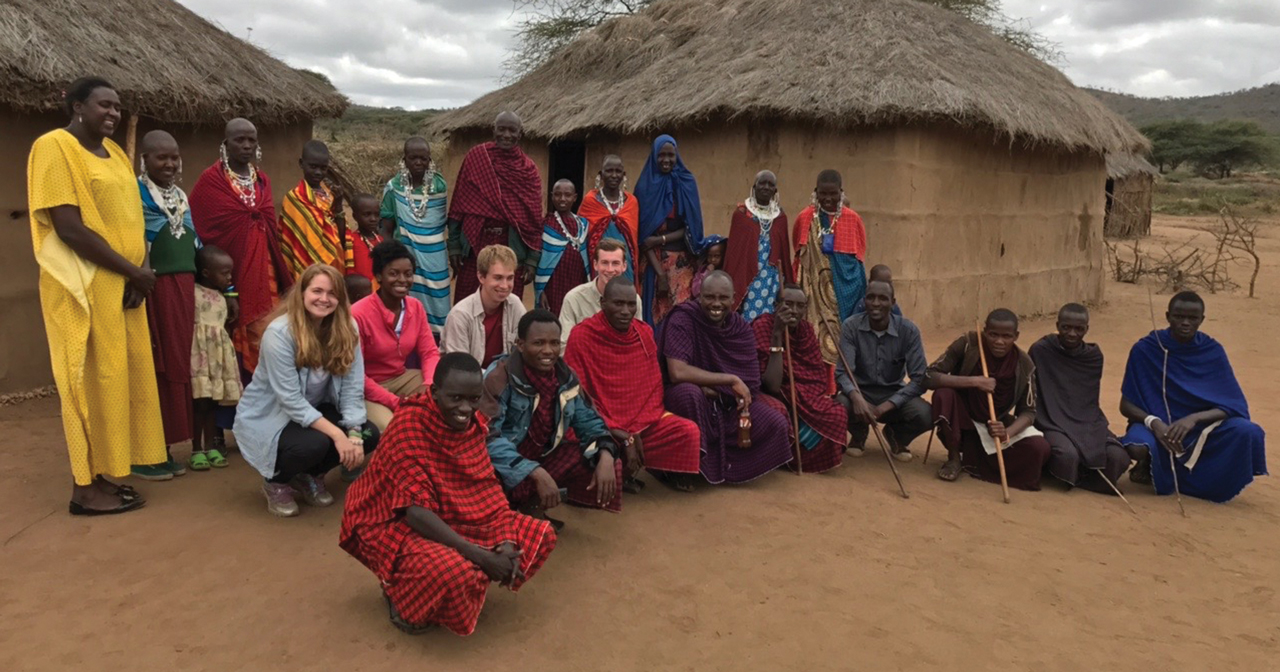 William & Mary's Global Research Institute (GRI) gives students the tools to work on cutting-edge projects and effect change that stretches well beyond campus. Led by Director Mike Tierney '87, M.A. '88, the GRI uses multidisciplinary techniques to facilitate collaboration between students, faculty and other field experts to generate research with real world policy implications. This work is supported by funds raised through For the Bold for scholarships, fellowships, research and internships.
One of the many projects based at GRI, the Center for African Development, provides students with hands-on experience researching technology, development, governance, state-building and conflict in sub-Saharan Africa. Through direct engagement with African communities, W&M students can broaden their understanding of international politics, cultures and societies.
Phil Roessler, an associate professor of government and co-director of the Center for African Development, spearheaded a field-based research project that addresses the impact of the mobile phone revolution on women in low-income countries. GRI funded Roessler's creation of a student-collaborative field experiment that measures the impact of mobile phones on Tanzanian women's lives. This pioneering research not only advances knowledge about the mobile phone revolution in developing countries, but also offers a deeper understanding of the complexities of using mobile technology as a tool for social development. His research and student travel were also supported by the Margaret S. Glauber Faculty-Student Research Fellows, an initiative of the Charles Center.
Roessler, W&M students and local collaborators briefed Tanzanian policymakers with the study's findings, which directly informed the Tanzanian government as it developed its social safety net payments to citizens.
Roessler discussed the importance of hands-on work for revealing students' unique talents outside of the classroom. "You learn so much about these young people, and you know that they're fantastic students," he says, "but then you see the quality of the person when they're having to tackle and undertake this very demanding research."
Henry Crossman '19, a student researcher on the project, described his experience working with Roessler and noted that "governments are changing their behavior because of the research that starts at William & Mary. This is the future of knowledge, undergraduates doing field research and working with local partners to address real world problems, bringing William & Mary to the world and the world back to William & Mary."
Motivated by his time in Tanzania, Crossman and a team of students created their own project through the GRI. The group secured funding to identify barriers to mobile micro-insurance uptake among Kenyan farmers and design an intervention program to improve farmers' ability to recover from economic shocks.
Crossman was also involved in the Teaching, Research & International Policy (TRIP) Project, which analyzes how international relations students and academics communicate their knowledge to the public and to policymakers.
As a result, he says, "I have been able to expand the breadth and depth of my knowledge of trends and thinking across many issue areas, while also being able to hone my research and analytical skills."
The experience allowed him to apply his learning to the policy-relevant research conducted at TRIP and the Institute at large, demonstrating how the GRI seamlessly integrates the classroom with real-world research for students to spark social change wherever they go.
"Governments are changing their behavior because of the research that starts at William & Mary."
— Henry Crossman '19