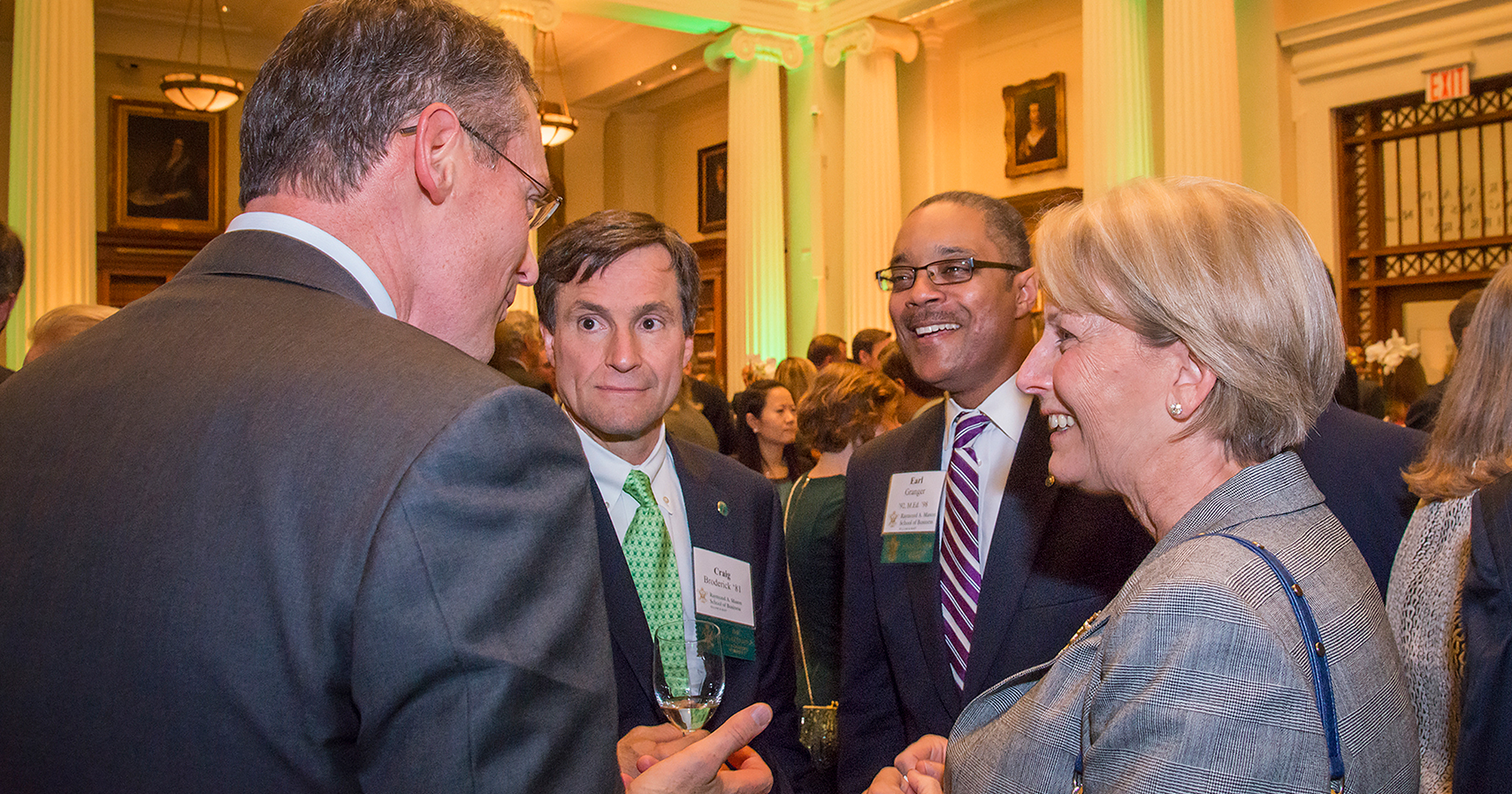 In 2014, the Boehly Center for Excellence in Finance was established by a generous multiyear gift from Todd Boehly '96 and Katie Garrett Boehly '95.
Part of the Raymond A. Mason School of Business, the Boehly Center offers students an enriched experience as they prepare for careers in finance. The center provides opportunities for advanced financial training, career exploration, networking and experiential learning through financial firm-sponsored competitions as well as through industry-leader and dedicated faculty-taught courses. 
"The Boehly Center is at the cutting edge of where I think management education is headed, which is bringing companies, industry leaders, alumni and faculty together to think about what it really takes to make our students truly career ready and to connect them to world class opportunities," says Dean Larry Pulley '74.
Cornerstone events such as From DoG Street to Wall Street bring together industry leaders, accomplished alumni and William & Mary students to network, explore and develop the personal and professional skills necessary for success in the financial services industry.
The center sponsors four faculty- and staff-advised clubs designed to provide students with unique experiences and leadership opportunities to help them break into the world of finance: the Howard J. Busbee Finance Academy, the Mason Investment Club, Smart Woman Securities and Women in Business.
In addition to several co-curricular educational offerings, the center sponsors the Financial Literacy Program, which is led by William & Mary students who teach peers and the public basic personal financial concepts in critical areas such as personal budgeting, student loans and personal credit, the economics of higher education, insurance and taxes, and saving and investment for retirement. 
"The Boehly Center provides all William & Mary students an environment in which to explore the financial services industry and its many career paths," says Jad Howell, the Boehly Center's executive director. "We accomplish this through sponsored experiences that bridge the classroom and the workplace, and that prepare students for success in their chosen careers. Consistent with the center's vision, we ultimately seek to foster a community of inclusiveness, diversity and enduring identity with William & Mary and the Raymond A. Mason School of Business, while developing the next generation of finance professionals that will positively impact society." 
"What finance has done for me has been nothing short of spectacular and I love sharing the opportunity, the education and knowledge base with current students."
— Todd Boehly '96