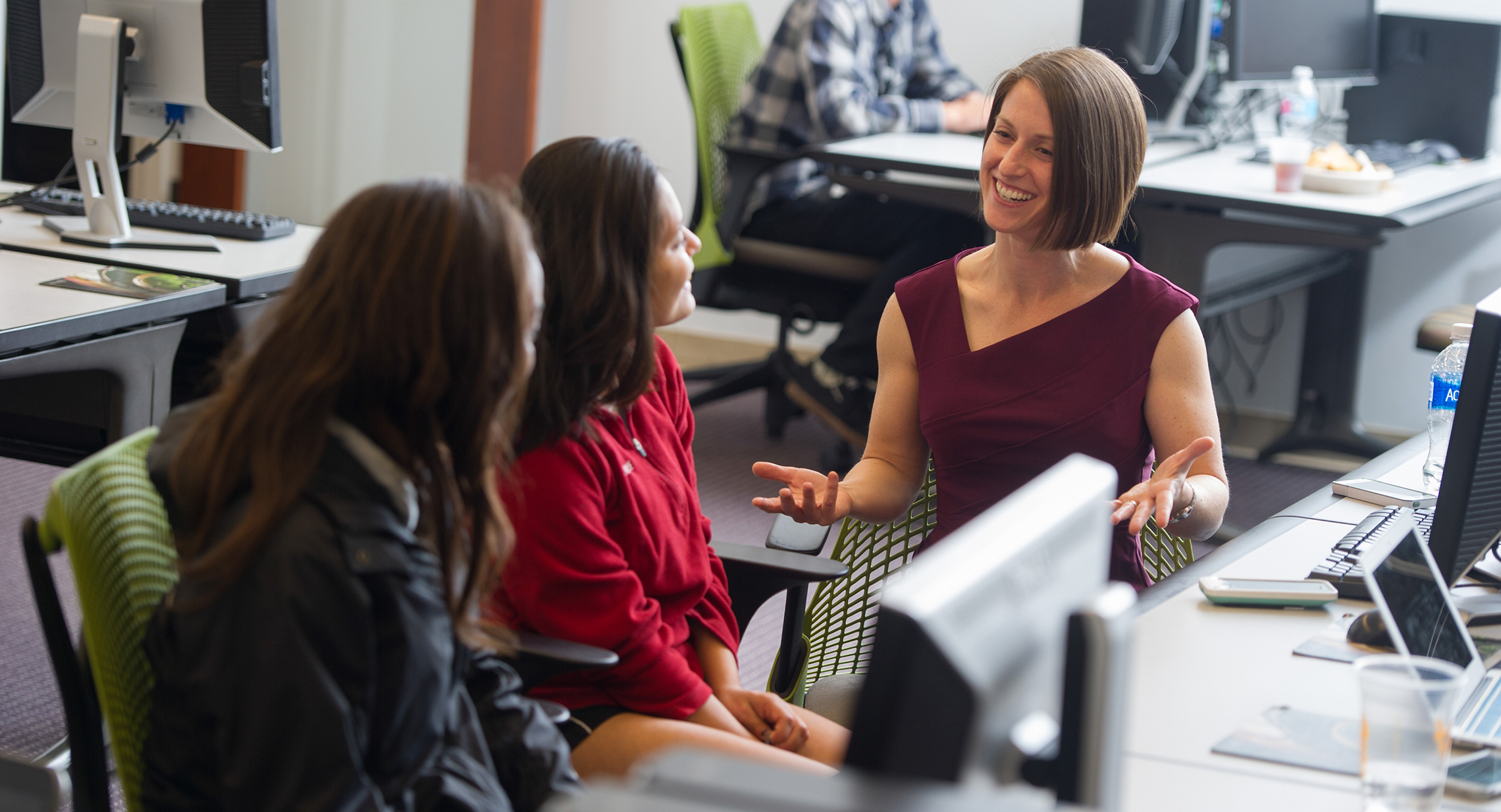 By attending the Grace Hopper Celebration of Women in Computing, William & Mary students are creating a brighter future for women in STEM. Named in honor of a pioneer in the field, the annual celebration is a job fair and lecture series that works to pave the way for equity in computer science.
As the largest gathering of women technologists in the world, the celebration connects 700 employers with 13,000 women in business over three days. Its mission is to encourage women to pursue careers in computing, expand opportunities in the field and break gender divides to transform and diversify the industry.
W&M students have been attending since 2010, and Professor Evgenia Smirni led a group of 12 to the conference in Houston in 2018. Alumni donations to the computer science department through the For the Boldcampaign helped make the experience possible. As a result of their generous philanthropy, the cost of attendance was fully covered for seven of the students, and the other five received outside funding.
The impact of the event was far-reaching for the students in attendance. "The conference reminds me why I decided to pursue computer science in the first place — because I can do amazing things," says Rachel Coughlin '19. "Future-planning-wise it's a dream, because it helps you and motivates you to get your job search on track. Inspiration-wise it's a dream, because you get to hear from other women who were in the same exact place as you at one point in time, and their advice is invaluable."
Beginning in 2018, funds from William & Mary's Belinda Carmines Blankenship Computer Science Innovation Endowment have also helped remove financial barriers to student participation in the conference. Belinda Blankenship '88 and her husband, Chip, established the endowment to support and empower undergraduate students pursuing a major in computer science.
"The conference program offered a host of parallel events, from technical presentations to professional development," says Smirni. "Most notably, the conference featured a career fair where our students interviewed extensively and landed offers for internships and full-time positions with many companies — including ones that do not recruit from William & Mary."
Coughlin, for example, received many job offers through the conference, for which she thanks William & Mary's wide-reaching education.
"We study STEM in a liberal arts environment. What does that mean? Unlike pure engineering students, who do not have speaking or writing curriculum requirements, we can communicate," Coughlin says. "I don't want to be boastful, but we as a department are very successful at Grace Hopper."
The 2018-2019 academic year also marked the 100th anniversary of coeducation at the university, making it an especially significant time for W&M women to continue a legacy of challenging gender norms to enter a male-dominated field of study.
Coughlin emphasized the vital importance of philanthropic efforts to support gender equality. "Invest in women's ability," she says. "It's an affirmation that there is, undoubtedly, a seat for them at the table."
"Inspiration-wise it's a dream, because you get to hear from other women who were in the same exact place as you at one point in time, and their advice is invaluable."
—Rachel Coughlin '19