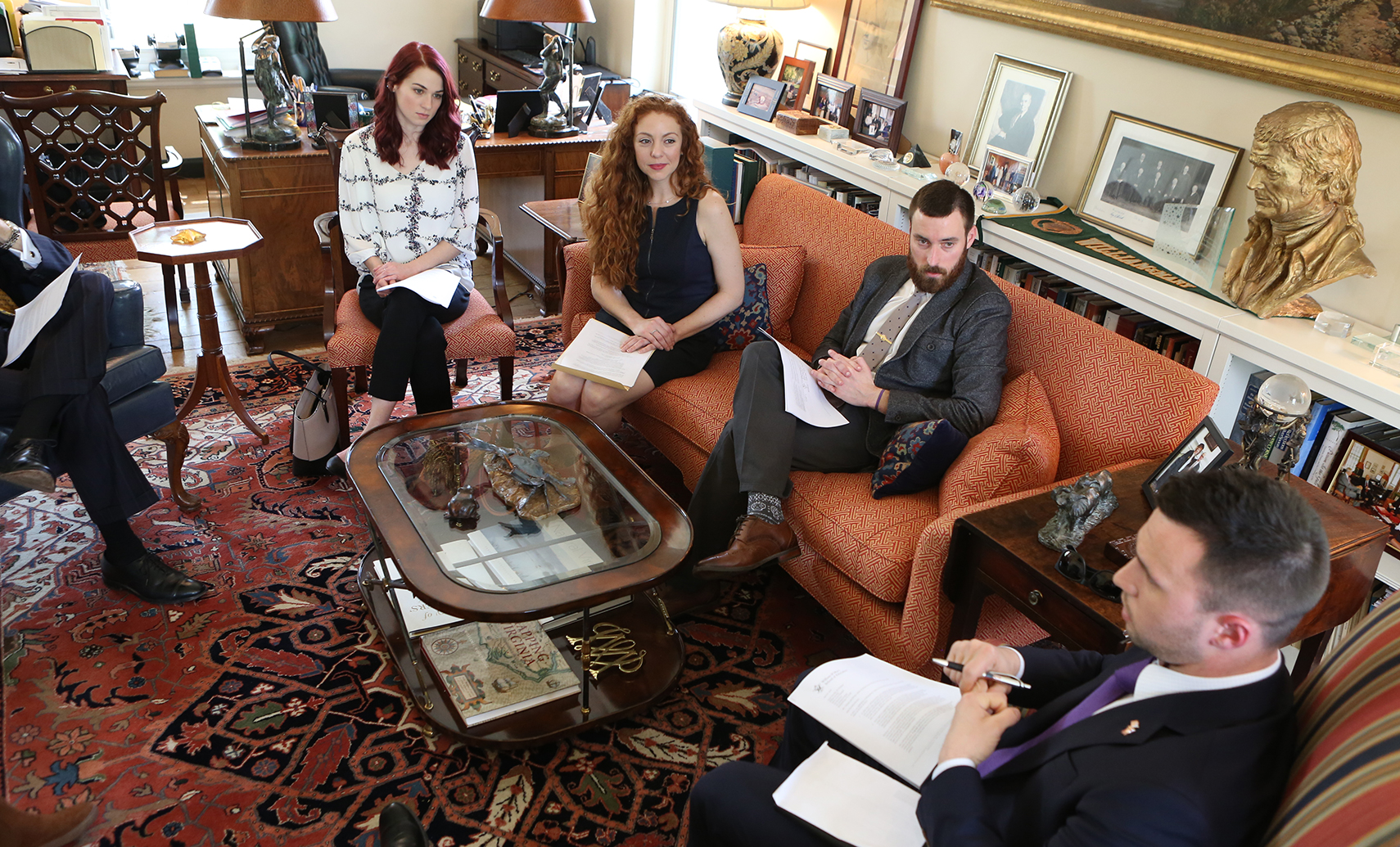 Veterans possess the talent and drive to succeed in the business world, but they often need support systems to make a smooth transition to civilian life after military service. Thanks to a $10-million gift from an anonymous alumna who serves as a trustee of the William & Mary Foundation, the university has developed a cutting-edge Veteran-to-Executive Transition program (W&M VET) that prepares veterans to excel in civilian leadership roles.
W&M VET will build on William & Mary's interdisciplinary strengths, its online degree offerings and its increasingly robust active-duty and veterans programs to help those who serve our country transition successfully into the civilian workforce. To lead the program, the gift creates a new position of special assistant for military and veterans affairs who initially will report to President Katherine Rowe. Bob Merkl stepped into the role of special assistant on Nov. 11 and began bringing together resources across the university and working with internal and external partners and advisors to develop the kind of comprehensive career transition support that makes a transformative difference in veterans' lives. 
"We extend our enthusiastic thanks to our alumna for her generosity and inspiration. She challenged William & Mary to think transformatively about how we approach veterans' education as a nation and to innovate in the way we support those who serve this country," Rowe says.
Providing comprehensive support for military and veteran students throughout the university, the W&M VET program includes resources to sustain the Office of Student Veteran Engagement — launched in 2019 as a two-year pilot program thanks to the generous support of the Jessie Ball duPont Fund — and to implement new transition programs while expanding current efforts. The special assistant for military and veteran affairs will work with OSVE Director Charlie Foster and others across campus to enhance programming and implement new initiatives. 
William & Mary is well-situated to offer such a program, given its location in a region with the highest concentration of military personnel outside the Pentagon. Every year, an estimated 12,000 to 15,000 service members in the region leave the military.
The vision behind W&M VET is comprehensive career transition support across disciplines. While many veterans programs offer general guidance and focus on immediate job placement, William & Mary is taking a longer-term and more tailored approach with an emphasis on cultivating initiative and creativity, fostering cultural adjustment and holistic wellness as well as developing key management skills.
Given W&M's reputation for academic excellence and its recent strides in veterans education, the anonymous donor said she sees an opportunity for the university to make a difference in the lives of those who have sacrificed so much.
"These men and women put their lives at risk on our behalf while serving our country, and we owe them an enormous debt of gratitude. Through this program, we can do our part to ensure their successful integration into life beyond the military," she says.
Among the current programs that W&M VET brings together are the W&M Office of Student Veteran Engagement, the Law School's Puller Veterans Benefits Clinic, the Troops to Teachers Virginia Center and the Military and Veterans' Counseling Program at the School of Education. It also includes the Major General James Wright MBA Program at the Raymond A. Mason School of Business, the Army ROTC program, the Whole of Government Center of Excellence's national security programs and the Association of 1775 veterans alumni group.
The business school is establishing a Military Transition Center to coordinate all of its military and veterans programs and facilitate access to resources and co-curricular initiatives for student veterans. 
"Military veterans are an integral part of the university and contribute enormously to the vitality of the business school," said Larry Pulley, dean of the business school. "They are principled leaders with tremendous capacity, and I am excited about the ways that this new program will enable them to flourish as students and as executives in the civilian world. We are grateful for the vision that our generous donor brings to this initiative and the resources she is providing to this groundbreaking effort." 
At William & Mary, there are signs of increased demand from veterans pursuing higher education. The online MBA program at the business school was recently ranked No. 22 for military veterans by U.S. News & World Report. In addition, the law school is a recognized leader in preparing military lawyers and serving veterans with disability claims, and was recently ranked the most military-friendly graduate school in the U.S. Military service members and veterans account for 170 of the 900 students in the university's graduate business programs. Overall, there are more than 250 veterans and military service members attending William & Mary.