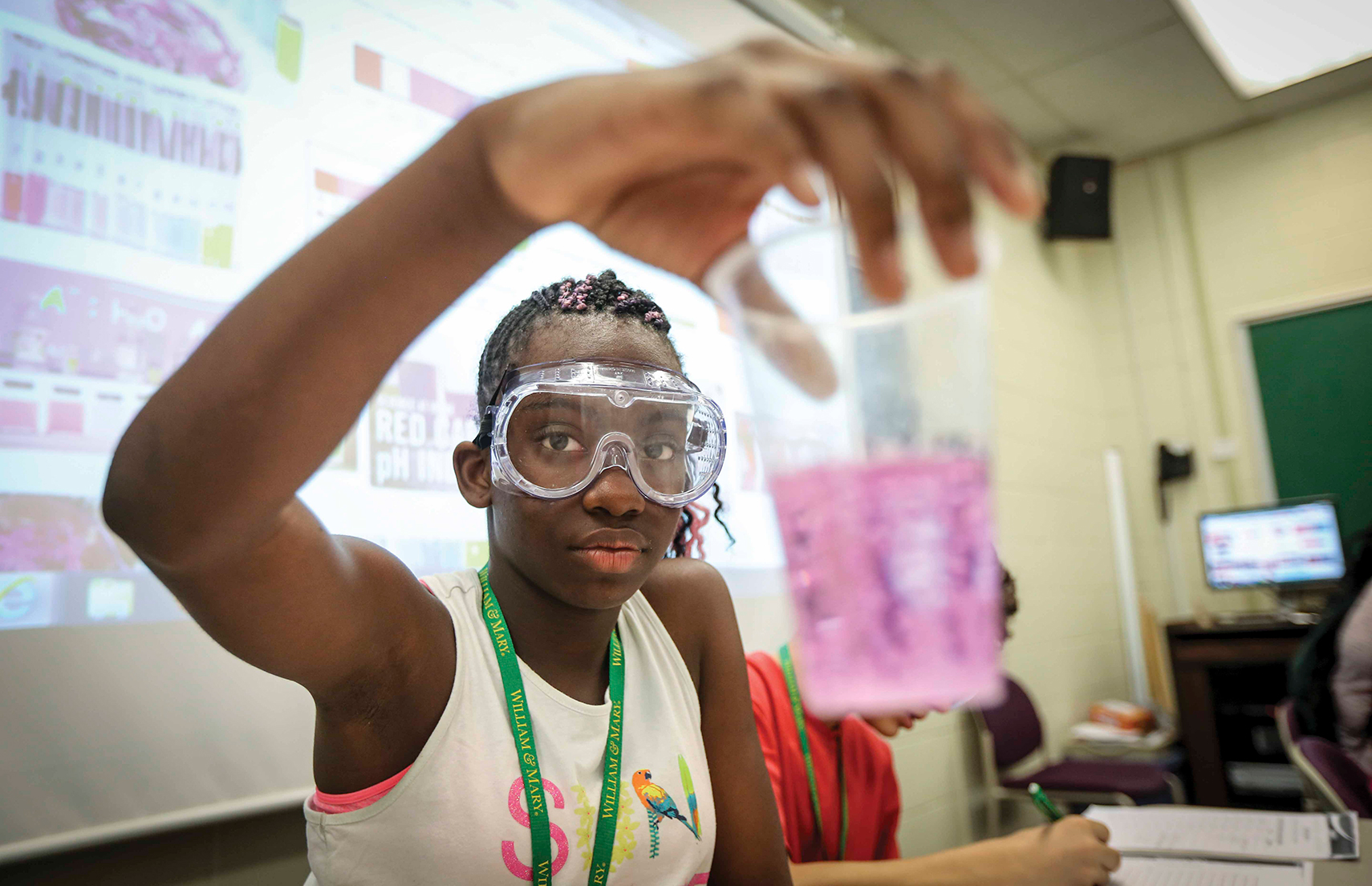 Camp Launch has been sparking curiosity in the science, technology, engineering and math (STEM) fields since 2012. The original grant from the Jack Kent Cooke Foundation allowed 70 academically promising, but economically challenged middle-school students in the region to attend a two-week residential summer STEM education camp at no cost and receive personal development and build college preparatory skills.
Thanks to a new $4.55-million gift from Nancy Briggs Petters '81 and Mike Petters M.B.A. '93, the camp will be able to increase the number of students who attend to 300 by 2022, while also deepening their connection to William & Mary by inviting them to participate for four years, beginning as rising seventh-graders.
Through the Petters Family Foundation, Nancy and Mike's support kept Camp Launch going after the initial grant concluded in 2015, and they made an additional $1-million commitment in 2016 that enabled the program's growth. By 2019, the number of participants had increased to 152.
With the latest expansion, older camp attendees will learn computer coding and research skills, and the curriculum also will be broadened to encompass physical and mental health along with the STEM fields. Another new component being explored for 2021 is to have the rising ninth and 10 graders spend time at W&M's Virginia Institute of Marine Science campus in Gloucester Point, Virginia. Students also will be given computer tablets during the first two years and laptops during their last two years, to facilitate continued research and access to peer support networks..
When Nancy Petters initially heard about Camp Launch, she felt connected to her first experience at William & Mary, a summer band camp as she was going into eighth grade. "After two weeks of being with like-minded kids, I came back with a whole lot more confidence," Nancy says. "It really has carried throughout my whole life."
Camp Launch has instilled this confidence in hundreds of young people. One early camper, NyJey Pope '22, is a junior at William & Mary from Franklin, Virginia — where Nancy Petters also grew up.
"I'm grateful to donors like the Petterses because a lot of kids don't have the opportunity that I did to attend a program like Camp Launch that pushed me to want more," Pope says. "Franklin is a very small place, and you can get accustomed to what you see every day. Donors make it possible to see the diversity of the world and experience everything it has to offer." 
In February 2020, Mike and Nancy Petters received the Peninsula Humanitarian Award from the Virginia Center for Inclusive Communities for their work with Camp Launch and other education programs. Mike established a scholarship for the children of employees at Huntington Ingalls Industries, where he serves as president and CEO. Nancy is president of the board of the Downtown Hampton Child Development Center. The continued expansion of Camp Launch will bring life-changing opportunities to even more students.