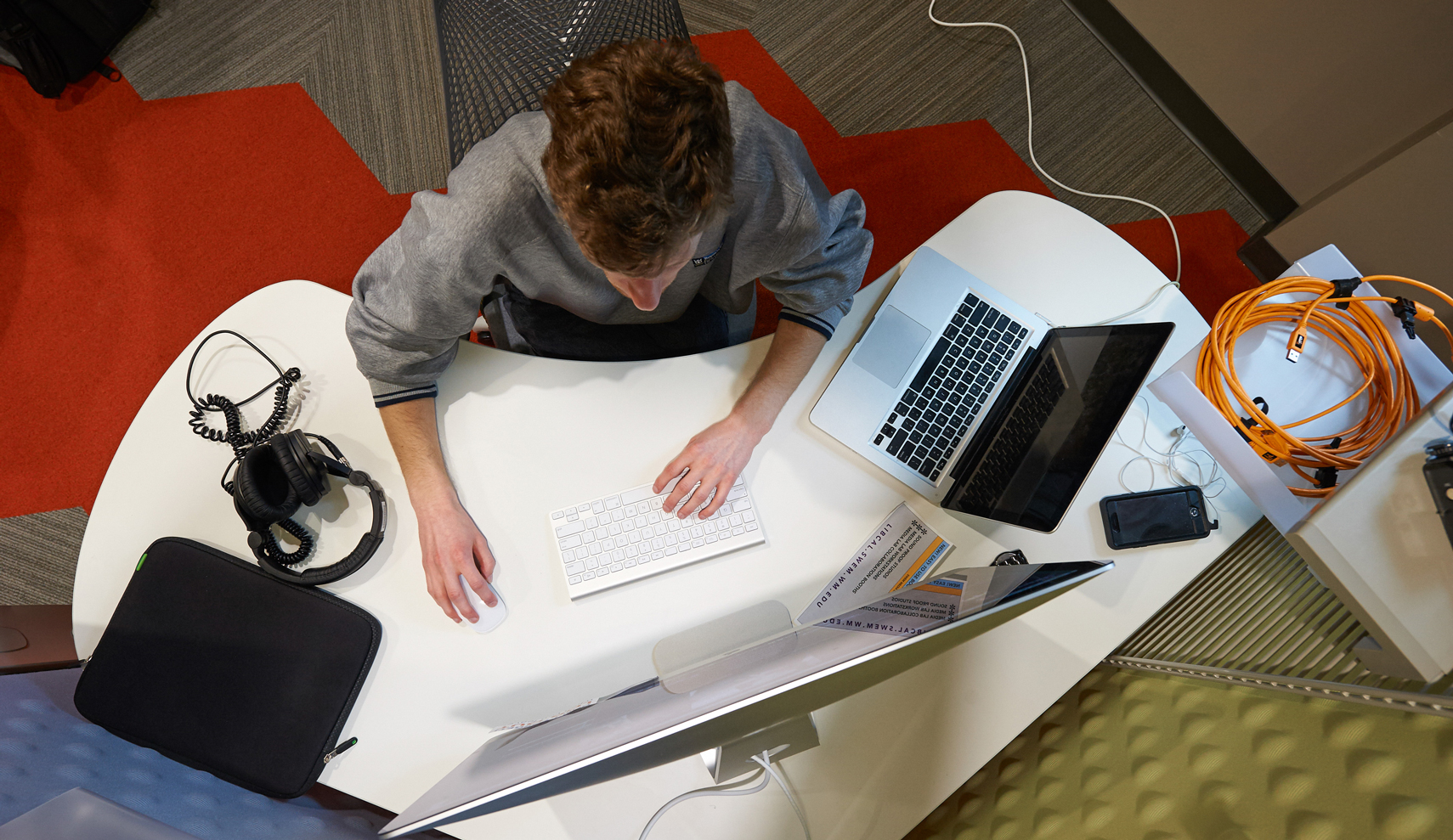 As technology changes the world at ever-increasing rates, some of the university's most innovative transitions are happening at William & Mary Libraries. Cherished for decades as foundational to our thriving university community, the libraries continue to link people with ideas in dynamic, forward-looking ways.
"One of the most interesting things people do in a library is create," says Carrie Cooper, dean of university libraries. "Our goal is to remove the barriers for success and give our students the tools and resources they need to develop 21st-century skills."
Not surprisingly, that vision for success increasingly includes incorporating different types of spaces for technology and other innovative ways to approach learning. During the For the Bold campaign, more than $22 million in support helped facilitate many new innovative spaces and programs within William & Mary Libraries. 
Slated to be located on Swem Library's main floor, a new high-tech Digital Scholarship Center will be a designated place to bring together state-of-the-art technology and tools with trained experts to help students learn and practice new and emerging skills. Designed to facilitate interdisciplinary research, collaboration and creation, this center will help students develop computer programming, graphic information system (GIS) and data science skills.  
In fall 2019, the Studio for Teaching & Learning Innovation opened in Swem Library as a university resource to facilitate faculty collaboration and improve teaching and learning experiences for students across campus. This new hub for faculty engagement reaches across traditional boundaries and leverages new technologies to encourage faculty to incorporate diverse modes of teaching into their courses. 
The Swem Makerspace recently expanded its footprint to give students, staff and faculty almost double the space to explore a variety of state-of-the-art equipment, including 3D printers, 3D scanners, vinyl cutters, stitching machines and a machine for making pin-back buttons.
Several years ago, private funding enabled the Charles W. Reeder Media Center, named for the founder of Swem Library's audiovisual department, to be renovated and reopened as the centerpiece for developing 21st-century multimedia skills with more than 600 high-quality equipment options and on-site media labs, recording studios and production rooms. Reeder's daughter, Sharon Reeder McCarthy '69, established an endowment that supports the ongoing operations of the Media Center.
Designed to connect the forthcoming Arts Quarter and Integrated Science Center IV with Swem's Mary Munford Plaza, an open-air outdoor patio capable of fitting up to 100 people soon will be added to the library's wealth of learning-centered gathering options for meeting, studying and programming. 
This focus on cutting-edge resources hasn't gone unnoticed. In August, Princeton Review ranked William & Mary Libraries as No. 8 on its list of best college libraries.
"Private support makes all the difference in allowing us to be innovative," Cooper says. "It's not hard to imagine the important role the library will to play as we continue to reimagine and prepare for the scholarship that will lead to transformative opportunities and discoveries for the entire William & Mary community."