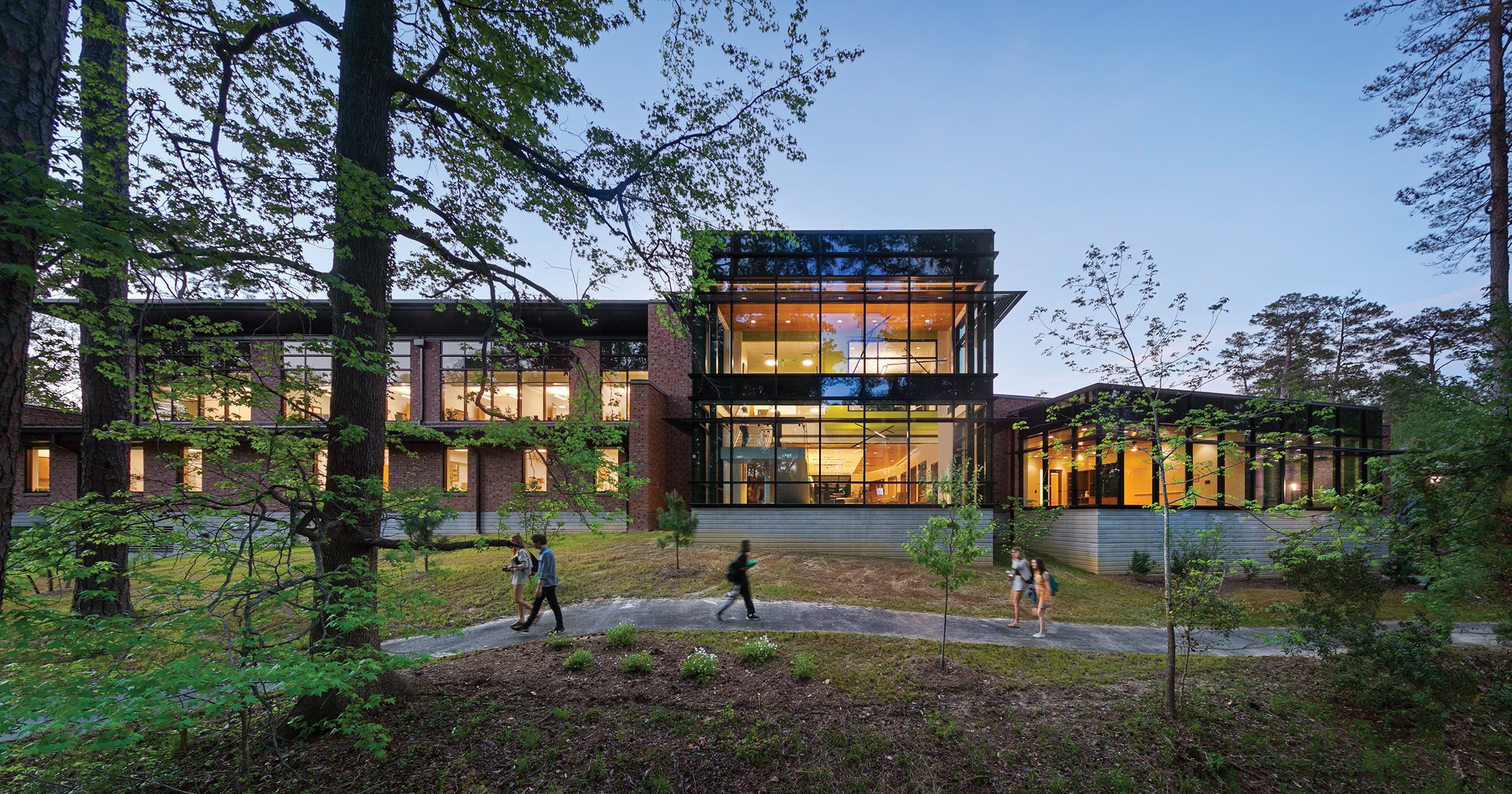 The McLeod Tyler Wellness Center represents William & Mary's commitment to improving student health through a holistic approach. The center is located at the heart of campus and includes the Office of Health Promotion, the Counseling Center, the Student Health Center, Campus Recreation's wellness programming and the Center for Mindfulness and Authentic Excellence.
Its serene atmosphere provides not only a quiet location for students to meet up with friends and relax between classes, but also a place where they can access a wide range of services, from counseling and medical exams to yoga classes, meditation rooms, massage, acupuncture, wellness seminars and more.
Since its opening in fall 2018, the center has sent a powerful message about the vital importance of accessible, comprehensive health services to the overall wellbeing of the student body. Its impact has been widespread, and students have embraced the many services, activities and education initiatives that it offers.
"I have noticed an increase in positive attitudes toward wellness on campus since the center was built," says Kate Donati '20, a yoga teacher at the university's recreation center. "I think of the wellness center as a symbol of how serious the administration is about having well-rounded students — not just looking for students who want to spend 18 hours in the library. They really want to make sure that we are taking care of ourselves and taking care of each other."
Together with the university's administrative leadership team, loyal benefactors J. Goodenow "Goody" Tyler III HON '11 and the late H. Elizabeth "Bee" McLeod '83, M.B.A. '91 brought the wellness center to life through their generous philanthropy.
In addition, the couple also established an endowment to fund wellness programs at the facility. As a result, group health and wellness classes are offered for free to all students at the wellness center and the Bee McLeod Recreation Center, removing barriers to wellness and creating a more equitable, united campus environment. The McLeod and Tyler Fitness Studios in the Center were named in honor of their generosity. 
"The McLeod Tyler Wellness Center is transforming the story of wellness at William & Mary," says university President Katherine Rowe. "It's everything that we hoped for and so much more. Its location in the center of campus reaffirms the importance of wellness and recreation for this community." 
The center's influence extends beyond campus as well. "The building itself is a wonderful thing to have ... but the whole perspective that the wellness center brings has made the greatest impact on my life," Donati says. "I plan to focus on my own wellness in the future. As opposed to just thinking that I have to work, work, work to get the career that I want, I know that I have to include wellness in my plan in order to build a life that I love."           
The Wellness Center is bringing a new emphasis to health that will continue to make a lasting impact on students — from when W&M is their new home to well after it is their alma mater.