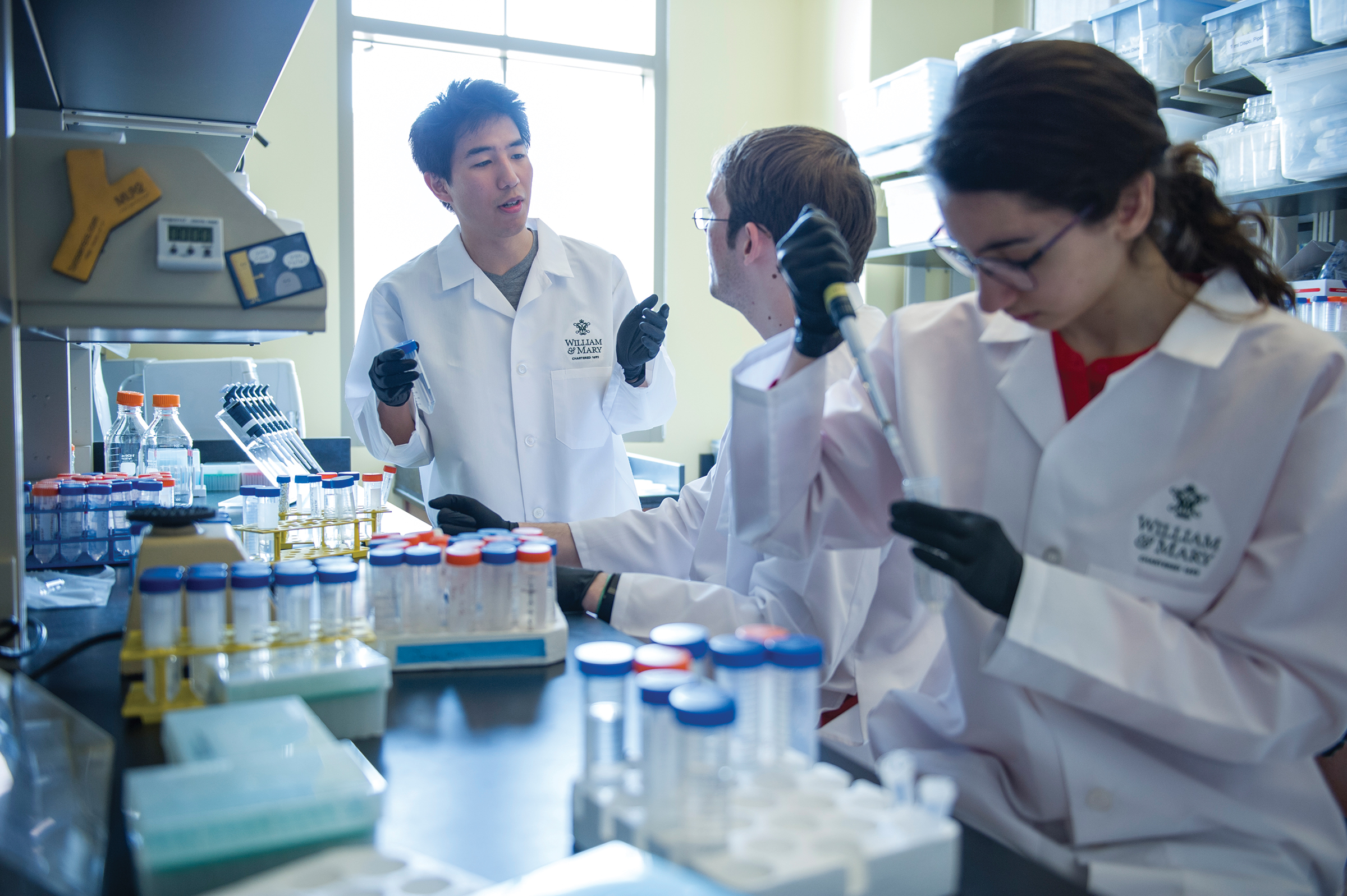 Aided by private support and cross-campus collaboration, William & Mary's iGEM team competes each year in the International Genetically Engineered Machine (iGEM) competition, which highlights the best in synthetic biology through student research.
The W&M project was judged against others from major research institutions throughout the world at the iGEM Giant Jamboree in a virtual conference from Nov. 14-22. Each year, the winner takes home what's been called the "World Cup of Science." It's a championship title the university has claimed before. A William & Mary team won the iGEM Grand Prize in 2015, and was first runner-up in 2017.
For the 2020 competition, William & Mary's interdisciplinary team had begun work in January on campus, but after spring break, when the university made the decision to pivot to remote teaching because of the COVID-19 pandemic, the iGEM team was forced to start from scratch on a new project. The budding synthetic biologists decided to research a critical tool in the fight against the novel coronavirus — therapeutics. 
"While it would have been easy for our W&M student team to forgo iGEM this year due to all the challenges, they did not. In fact, they felt compelled  to not only continue, but to switch gears and work even harder during this very challenging semester, and develop and pursue a COVID-19-related project," says Margaret Saha, chancellor professor of biology and iGEM faculty advisor.
Given that the team did not have access to the lab this iGEM season, the students chose to pursue a challenging two-part project that entailed: 1.) the design of a novel type of therapeutic — a probiotic that uses lipids as bioactive molecules that can possibly treat a variety of RNA viral infections, including COVID-19, and 2.) the development of a complex mathematical model to test the feasibility of the design.
"Lipids are important in modulating a person's initial innate immune response and it is well known that these 'cytokine storms' released by the immune system often lead to a fatal result," Saha says. "Our team is investigating a way to control these responses using lipids."
Using the power of synthetic biology, developing a "smart drug" would be potentially very useful. 
"The lipid-based therapeutic is called a 'smart probiotic,'" Saha says. "It's smart, because it responds to the physiology of the environment in which it finds itself."
One subgroup of the team is also attempting to develop an algorithm using machine learning techniques to predict likely virus sequences that have the probability of spillover or host-jumping to humans.
"That is going to be applicable, hopefully, to a number of different possible pandemics that may develop," says Josh Hughes '22. "It is a resource for investigators in the field, who determine if there is going to be a recombination event among two viruses that enable that virus to jump species. Our team is looking at trying to develop an algorithm that will predict that."
Another subgroup has been regularly contributing to an outreach project called "Modeling for the Masses," explaining COVID-19 epidemiological models to people of all backgrounds who may be confused by the often conflicting information presented and what it means for them. 
After the competition, the team will share its discoveries with local schools.
"We will be developing education tools to explain how models are developed and why they keep changing," Saha says. "We are committed to enhancing scientific literacy and understanding and engaging with the public and teachers in our community." 
The Arts & Sciences Annual Fund provides stipends for student research, supply needs and conference travel, and a newly created iGEM Fund also helps with expenses.
Besides iGEM, the impact of the A&S Annual Fund is evident in a variety of ways, such as bringing in guest speakers across the arts and sciences landscape, allowing student-faculty research teams to study in Alaska and the Caribbean, and enabling performances by the W&M Wind Ensemble across Great Britain and the W&M Choir in South Africa.
During the For the Bold campaign, $1.2 million was raised for the A&S Annual Fund, which helps students and faculty push the boundaries of their teaching and research, keeping William & Mary at the forefront of education in the liberal arts. This kind of unrestricted funding gives the leadership within Arts & Sciences the flexibility to meet the university's most pressing needs and to invest strategically in innovative initiatives.
"We are working to solve a problem that has forced its way to the front of everyone's mind for most of the past year. For this reason, it is obvious that our work can have an important impact, and the stakes are much higher."
—Matt Dennen '22