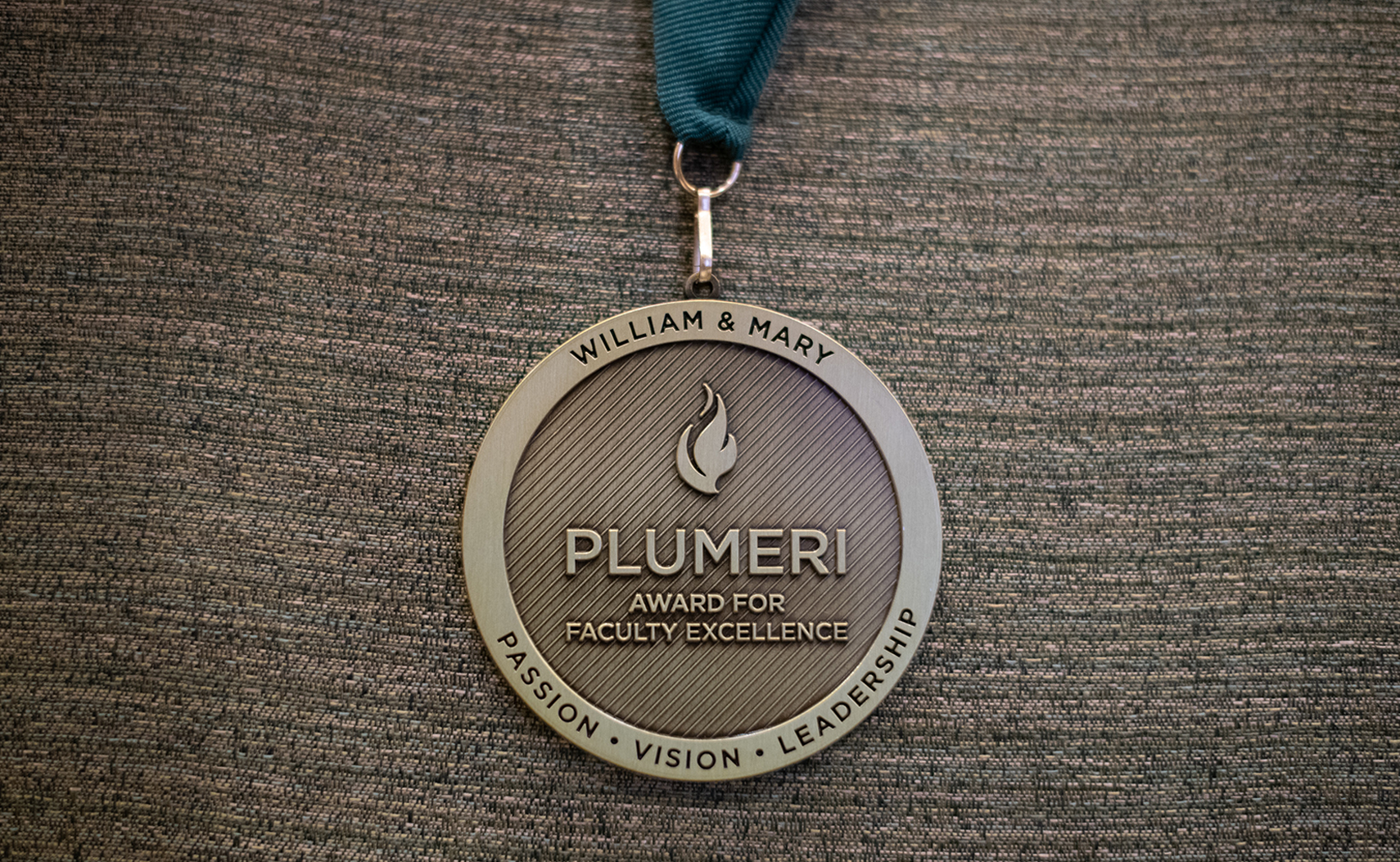 Joseph Plumeri '66, D.P.S. '11 established the Plumeri Awards for Faculty Excellence in 2009 with the goal of enabling outstanding William & Mary professors to take their collaborative and dynamic research to the next level. Twelve years later, the Plumeri Awards have benefited over 200 members of the university's faculty and athletics staff.
Recipients' research has varied from climate change to criminal justice reform to the biological foundations of Alzheimer's disease, but all of them exemplify passion, vision and leadership, as indicated by the medals that accompany the awards. 
William & Mary President Katherine Rowe has described the impact of the awards by saying, "They enable our faculty to take risks, transform their respective fields and create connections with students that can last a lifetime."
Along with research excellence, the awards recognize the importance of student involvement. In a video honoring the 2019 recipients, Yutong Zhan '20 spoke about the influence of history professor Carol Sheriff, praising Sheriff's "great commitment to teaching and setting a really great example for me to emulate."
The use of Plumeri grants is almost as varied as the research topics themselves. Vice Provost for Academic and Faculty Affairs Ann Marie Stock, a 2013 Plumeri recipient, used her funding to bring undergraduates to Cuba to assist with research and host Cuban filmmakers to speak in her classroom. A 2016 recipient, history professor Ronald Schechter, spent two months exploring Marie Antoinette's secret library in Versailles, France, to study her intellectual impact. Kinesiology professor Robin Looft-Wilson, a 2014 recipient, used her funding to collect data on abnormal blood vessel growth in collaboration with the Eastern Virginia Medical School to help babies born prematurely.
The common thread in these projects and others is the faculty recipients' commitment to innovative, student-engaging research. A recent shift decreased the number of recipients each year from 20 to 10, while doubling the stipend for each recipient to $20,000, allowing more comprehensive research opportunities.
Plumeri majored in history at William & Mary and went on to work on Wall Street and become a finance executive, author and philanthropist. A member of the W&M Board of Visitors from 2000-2008, Plumeri credits his undergraduate professors with helping him develop many of his key values. "When I was a William & Mary student," he says, "my professors instilled in me the need to think creatively, ask difficult questions and above all, persist in the face of adversity."
Now Plumeri is paying it forward by supporting a new generating of professors who can inspire students to go out and change the world.
"These William & Mary professors inspire their students every day with their passion, creativity and integrity. Because of this, our next generation of business, professional and community leaders can see that with imagination and vision, anything is possible."
— Joseph Plumeri '66, D.P.S. '11