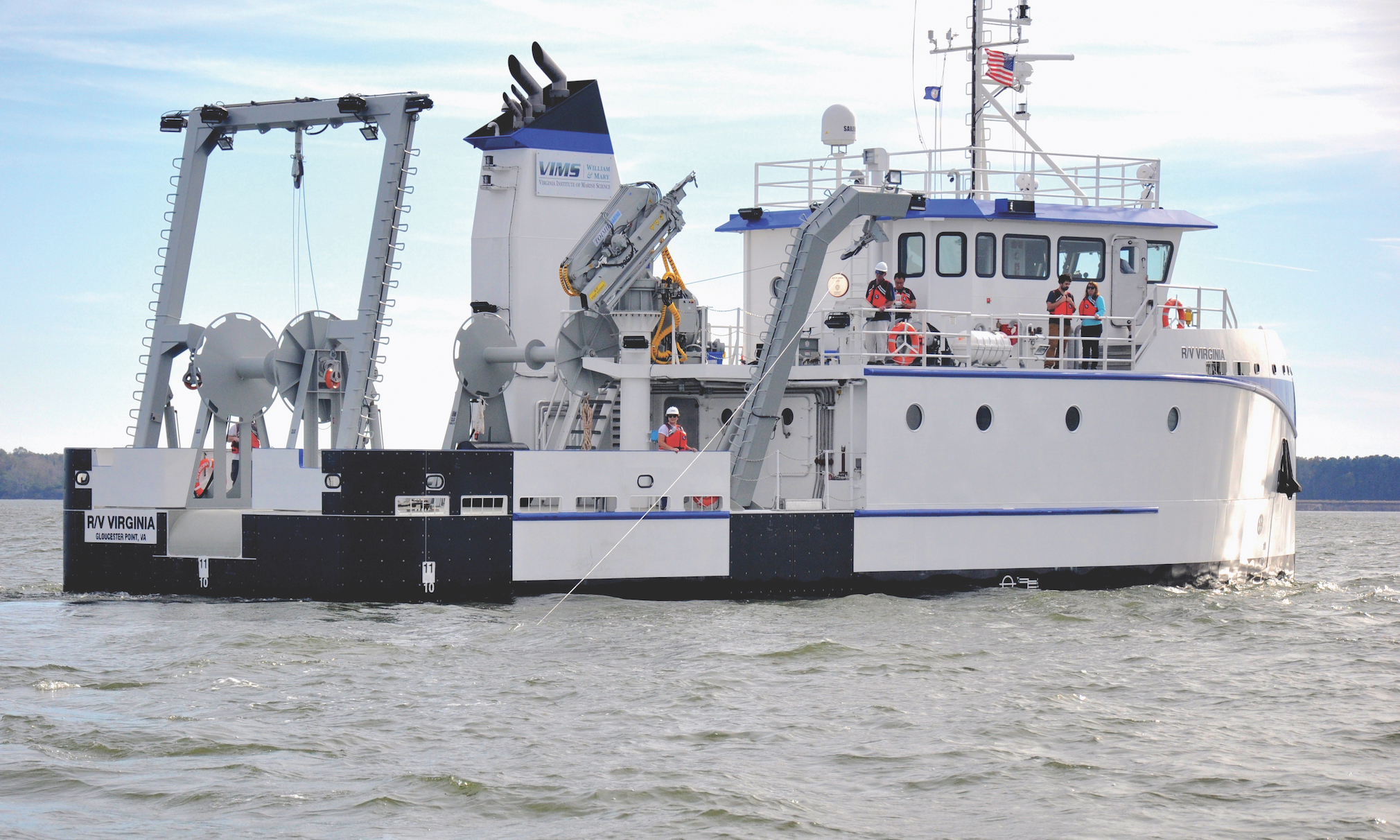 The Virginia Institute of Marine Science christened its new flagship research vessel, the 93-foot RV Virginia, on April 26, 2019. While the vessel was state-funded, its multibeam sonar suite was funded in large part by private philanthropy through the For the Bold campaign.
The RV Virginia and its state-of-the-art scientific equipment will allow VIMS scientists to monitor and study the Chesapeake Bay and its marine life much more effectively than the institute's previous flagship, the 65-foot Bay Eagle, and will expand the institute's research footprint into the open waters of the coastal Atlantic. 
"Our unwavering commitment is to use the Virginia for cutting-edge research and education of unsurpassed quality in the Chesapeake Bay and its tributaries — just as we have been doing on other research vessels at VIMS for nearly 80 years," says VIMS Director and Dean John Wells. "Innovation is for the bold, and innovation in the design and construction of the Virginia makes it arguably the most sophisticated research vessel in its size class in the United States."
The Virginia will support VIMS' Multispecies Fisheries Research Program and the Virginia Shark Monitoring and Assessment Program, among others. In addition to its fisheries capabilities, the vessel has the equipment required to perform bathometric and seismic surveys, deep-water plankton surveys and coring operations. Its stern- and side-mounted cranes facilitate deployment of trawl nets and dredges, scientific buoys, and the new generation of robotic vehicles, both tethered (ROVs) and untethered (AUVs).
The vessel's lab space — 500 square feet in total — is divided into a wet lab for processing samples within a protected area, and a dry lab for conducting experiments with sensitive instruments while underway. Its electrical and networking systems were designed to handle the torrents of data collected by today's high-tech field sensors and lab instruments, and with an eye to the even more voluminous data streams expected for the future. These features, along with the vessel's engine and propulsion systems, combine to allow the vessel to operate more efficiently in terms of both fuel and cost.
When not in use by research teams from VIMS, the Virginia will be available for charter by external parties as well. The vessel offers opportunities for internal and external environmental research related to offshore sand and mineral resources, offshore energy, and dredging and maintenance of navigational channels.