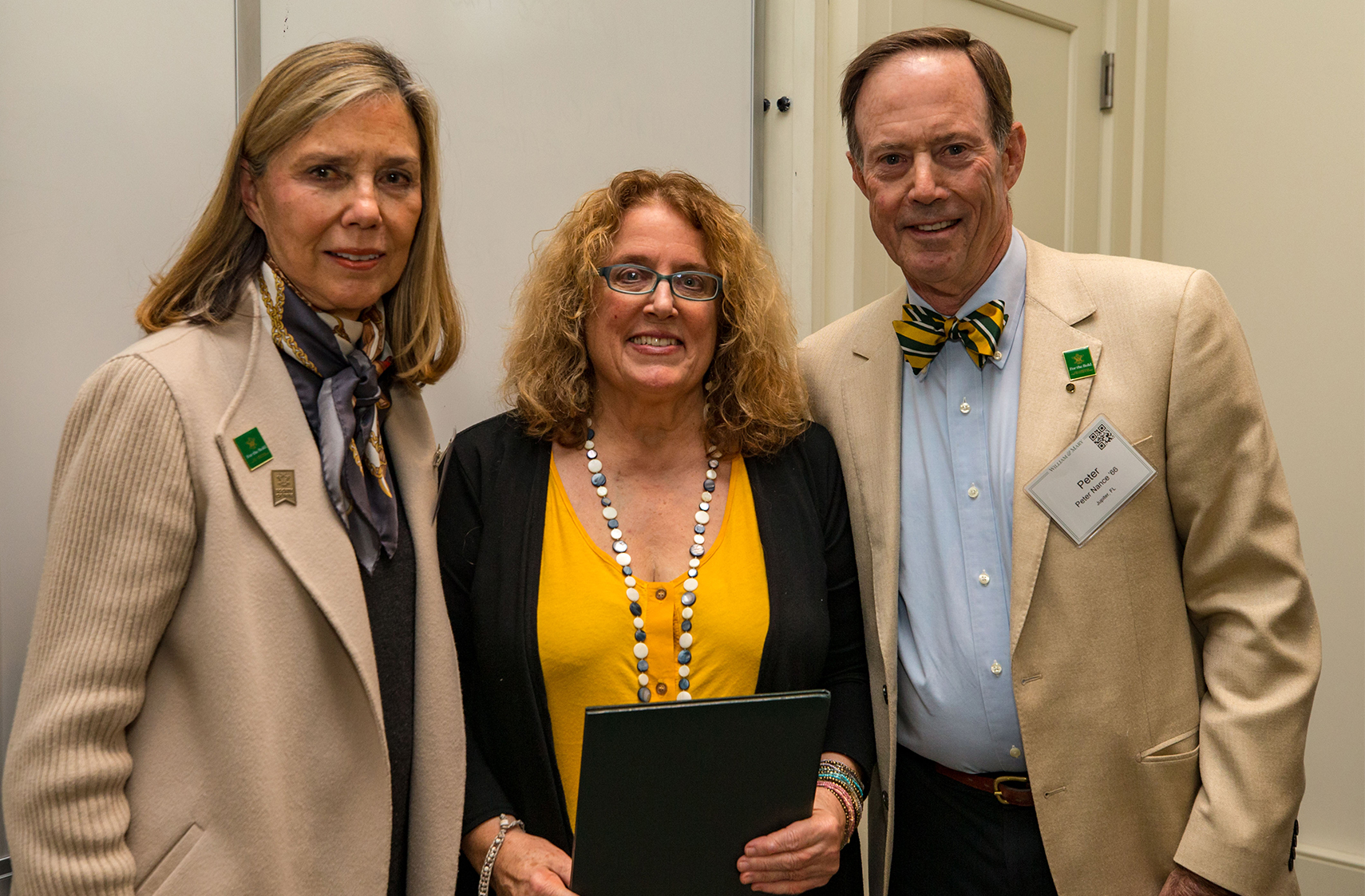 Judy Poarch Nance '69 and Peter Nance '66 wanted to commemorate the legacy of their daughter in a way that came naturally to them: giving back to their community. The Nances established the Sara E. Nance Professorship of English, first awarded in 2017, in memory of their daughter, Sara, who died from cystic fibrosis in 1998 at age 26.
Sara studied English and French at Vanderbilt University and wanted to pursue a career as a writer. In honor of Sara's academic passions, the Nances' support of exceptional English professors at William & Mary enables innovative research and inspiring teaching.
"This endowment has a multiplicative effect," Peter Nance says. "It not only leverages the skills of a particular well-qualified teacher; the impact is multiplied through their students and to the outside world as they express themselves going forward."
Professor Deborah Denenholz Morse is the current recipient and the first to receive this honor. Morse uses her passion for Victorian studies and the English novel to teach fascinating, often interdisciplinary, courses. An engaging professor who has received several awards for her excellence in teaching during her 30 years at William & Mary, Morse is known for captivating lectures.
During Homecoming & Reunion Weekend 2018, students, alumni, parents and friends had the opportunity to hear Morse's lecture "Resistance, Art and Animals in Anne Brontë," about abolitionism, animal welfare and women's rights in Brontë's "The Tenant of Wildfell Hall." She chose this topic because of the inspiring courage of both Sara and the Brontë sisters.
"We want this gift to afford each recipient the opportunity to study in the area of their particular interest," Peter Nance says. "This really allows them to add an extra level of expertise to their teaching and enriches their ability to communicate with students." 
Morse says the professorship funds have allowed her to do research in London and visit sites that help her bring literature to life in her classes, lectures and writing.
"I made a pilgrimage to the site where Charlotte and Emily Brontë' and their father, Patrick, stayed in London, the Chapter Coffeehouse next to St. Paul's Cathedral, that has forever illuminated my teaching of a crucial scene in Charlotte's novel 'Villette.'" Morse also visited places represented in Anna Sewell's "Black Beauty" and saw a London pantomime adaptation of the children's classic, a novel she spoke about for the Tack Faculty Lecture Series in 2019.   
The Nances' dedication to the student experience is also evident through the Nance Scholarship, which they established in 2016 to support study abroad opportunities for students to honor Sara's experience studying abroad in France.
In 2020, Peter Nance was awarded the Alumni Medallion, the highest honor bestowed by the William & Mary Alumni Association, for his dedication, commitment and assistance to the university; exemplary professional accomplishments; and leadership in civic engagement.  
The Nances' commitment to an engaged and connected university community is a gift to all current and future students. Sara's memory will endure at William & Mary through her parents' commitment, the professor who carries her name and through the students who are excited, encouraged and inspired by their William & Mary experience.  
"This endowment ... not only leverages the skills of a particular well-qualified teacher; the impact is multiplied through their students and to the outside world as they express themselves going forward."
— Peter Nance '66

 

 

"The Nance Professorship has had a tremendous effect upon my teaching as well as my scholarship."
— Deborah Denenholz Morse, Sara E. Nance Professor of English