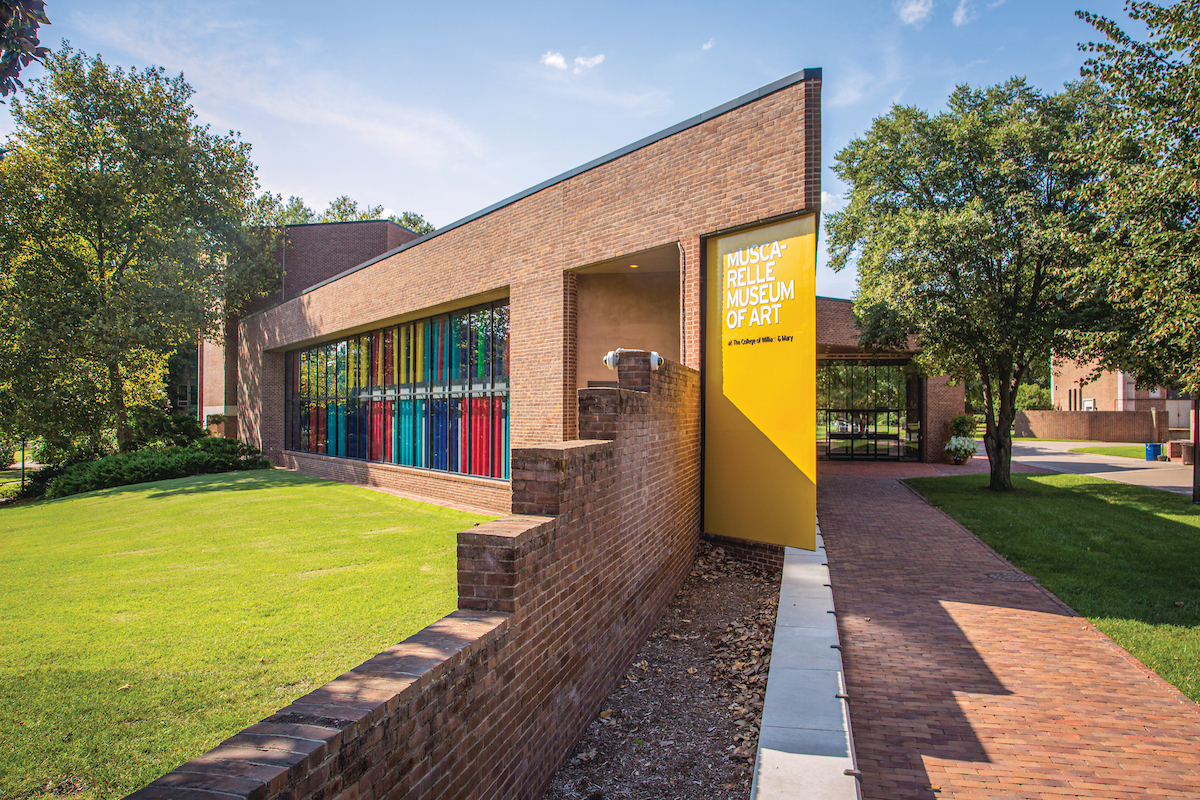 The new Martha Wren Briggs Center for the Visual Arts, slated to open in early 2023, will propel William & Mary's vibrant arts scene forward.
Named after one of the museum's major philanthropic supporters, the late Martha Wren Briggs '55, the center will encompass an expanded Muscarelle Museum of Art with additional gallery space, a state-of-the-art study center for works on paper, a hall for special functions, expanded storage areas for the collection and new staff quarters.
The combined new facility will total approximately 50,000 to 55,000 square feet, with a new entrance through a central atrium that bridges between the old wing and the new wing.
Named after one of the museum's greatest philanthropic supporters, the late Martha Wren Briggs '55, the center will showcase a diverse range of permanent and temporary collections that will advance the arts at William & Mary.
The center will be part of the William & Mary Arts Quarter, which also will feature a renovated Phi Beta Kappa Memorial Hall and a new music building.
The Muscarelle Museum was originally established in 1983 with the mission of advancing art, building community and encouraging innovation. Its new and improved home made possible by Briggs will further these goals and enrich the arts at the university.
A dedicated alumna and successful art historian, librarian and writer, Briggs's extraordinary commitment to W&M is further demonstrated by her support to renovate the campus amphitheatre — also named in her honor — and fund need-based scholarships for arts students.
Passion for the arts and pride in the university fuel many contributions that will make the Briggs center truly groundbreaking. Sybil Shainwald '48, LL.D. '19 will donate 100 works of art to the Muscarelle via her estate, including many works by women and depicting women. Among the artists represented are Henri Matisse, Dorothea Tanning, Joan Mitchell and Rene Magritte.  
A lawyer and activist who has fought for women's health reform for decades, Shainwald's "extraordinary gift will forever change the representation of women artists in the university's collections," says W&M President Katherine Rowe. "She shines as a brilliant litigator and a visionary art collector. We are incredibly grateful to her for entrusting William & Mary with this transformative collection."
Shainwald's contributions will impact not only the museum, but campus at large. They "can be used to support study programs in a variety of departments, stretching beyond art and art history to talk about gender, psychology and other academic fields of inquiry," says David Brashear, director of the Muscarelle. "That's how a university museum can have an even greater impact, because it sits so perfectly in the intersection between the art world and the academic world."
Julian Fore '71 is another benefactor to the museum. Fore's gift includes a diverse array of prints, paintings, drawings and pottery from artists such as Paul Cezanne, Andy Warhol and Pablo Picasso.
Additionally, Fore has served the university as chair of the Muscarelle Art Foundation, chair of the Annual Giving Board of Directors and a trustee of the William & Mary Foundation.
"Not everyone can travel to visit premier museums across the world, but everyone can experience the joy of culture, music and art as part of their William & Mary experience," says Fore.
The center is a symbol of W&M's dynamic community and will bring new life to the arts on campus.