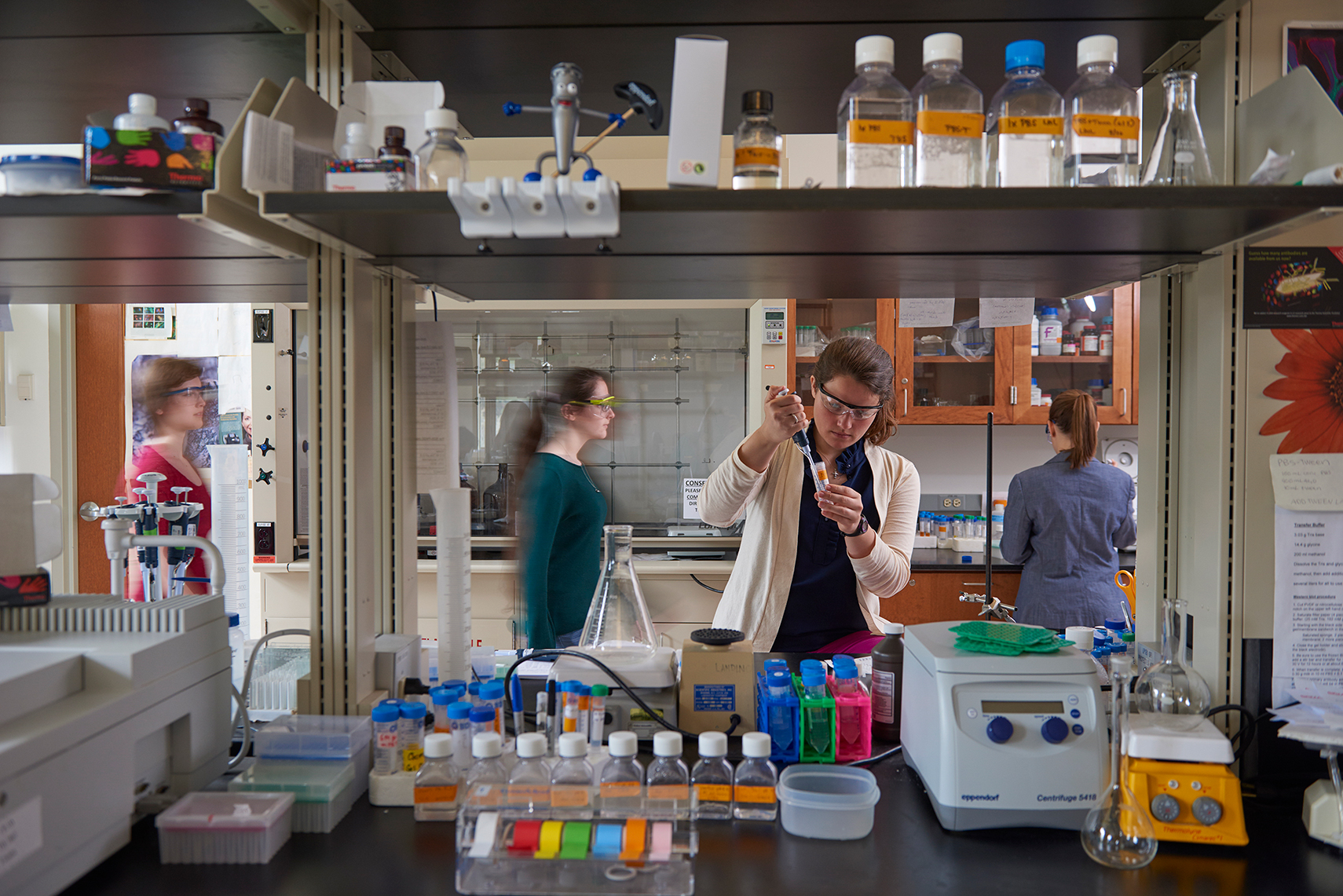 Thanks to the generous philanthropy of Cory English, the English-Stonehouse Fellowship is allowing students and faculty to engage in cutting-edge research. The funding enables faculty from biology, chemistry, computer science, geology, mathematics, physics and biological fields in kinesiology and psychology to apply for a stipend for two years. Each faculty fellow hires two students to conduct research, and the faculty-student team receives funds to use over the two-year period for research-related expenses. The fellowship is administered through the Charles Center.
As the retired CEO of what is now Page/SST Planners, a specialized laboratory consulting and design firm, English became intimately familiar with the W&M campus while his firm designed the first two phases of the Integrated Science Center (ISC). During that time, his first wife, Katchen Stonehouse, was battling cancer. After her death in 2010, English established the fellowship as a tribute to her memory.
"I got to know several of the professors in the chemistry, biology and psychology departments and my appreciation and respect for the faculty grew from the knowledge one gains working closely with a group making important decisions for the future of their departments and, by extension, the university," English says. "I developed a deep admiration for the faculty who freely gave their time by making selfless contributions to the ISC project. I was in a raw state and their dedication truly touched me. It was inspiring to me."
The program's success has had a profound impact on students at the university. The research experience that Lydia Boike '18 gained from the fellowship allowed her to prepare to earn a doctorate.
"I started researching as a freshman and was able to conduct research all four years and two summers at William & Mary. Being able to be paid to do research over the summer is so important, and I am very grateful to Mr. English," Boike says. 
Boike was also able to use part of the English-Stonehouse Fellowship stipend for supplies and to present her findings at an American Chemical Society conference in North Carolina.
"I've learned to set up a study and work through problems, but perhaps most importantly, I've gained the experience and confidence as a researcher to pursue a Ph.D. in chemistry," she says.
Several of the students have contributed to research publications while at William & Mary and have gone on to top graduate schools to conduct research. Because of the program's success, English has decided to include funds in his estate for it to continue. 
"We are deeply grateful for the opportunities Cory makes possible for our students and for his appreciation of the role faculty play as scholars and mentors," says Teresa Longo, dean for interdisciplinary studies and director of the Roy R. Charles Center for Academic Excellence. "Along with his generosity, Cory's own inquisitive spirit has enriched our approach to teaching and research." 
The fellowship is helping to expand valuable research opportunities that affect students long after they have graduated — an experience that English is proud to provide.
"Even though Katchen did not have a direct connection to William & Mary, I think she would have been honored that her legacy will live on through the students benefiting from the fellowship," English says. "Ever since I started the fellowship, it has been one rewarding experience after another."
"I developed a deep admiration for the faculty who freely gave their time by making selfless contributions to the ISC project."
— Cory English