Graduate & Professional Scholarships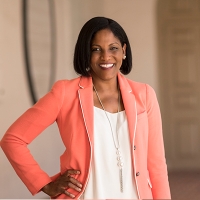 "I love to read and I love to write. My hope is that, through my research and teaching, I can help classroom teachers gain the knowledge, skills, and dispositions that allow them to instill a love of literacy in their students."
Elizabeth Auguste Ph.D. '18
William & Mary's reputation as an institution of excellence is influenced by the strength of its graduate and professional programs. Graduate students are essential to the academic enterprise and contribute greatly to knowledge creation, scholarship and research. It is important to expand funding for fellowships and graduate scholarships to enhance William & Mary's ability to compete for the highest caliber students and to enable those students to hone their leadership skills and pursue their scholarly work without the burden of debt.
Arts & Sciences Graduate Studies
Arts & Sciences seeks to endow recruitment fellowships to attract the best candidates to their graduate programs in Humanities, the Social Sciences, and Natural and Computational Sciences.
William & Mary Law School
With additional funding, William & Mary Law School will endow scholarships for exceptional students, provide students with stipends to engage in pro bono work during the summers, and assist recent graduates with fellowships as they pursue careers in public service.
Raymond A. Mason School of Business
The Raymond A. Mason School of Business seeks to increase support for their best and brightest students pursuing Masters of Business and Masters of Accounting degrees.
School of Education
Scholarships at the School of Education will provide competitive funding to attract talented graduate students in Curriculum and Instruction, Educational Policy, Planning & Leadership and School Psychology and Counselor Education.
Virginia Institute of Marine Science
The Virginia Institute of Marine Science is building support for a Dean and Director's Scholars Program to award fellowships to their most outstanding students.