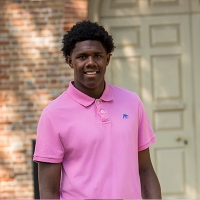 "I plan to utilize my academic and athletic talents to help improve lives worldwide. My scholarship has given me the opportunity to improve my life and continue my education at a prestigious institution"
Nathan Knight '20
William & Mary is renowned for its academic excellence and rigor. Our athletes are gifted both in the classroom and on the playing field, and they boast an impressive 91 percent graduation rate. Having highly competitive athletes strengthens the quality of sports programs in tangible ways. Along with first-class facilities and effective coaches, they make the difference between winning and losing. Scholarships enable students with exceptional talent both on and off the playing field to pursue excellence at William & Mary.

Tribe Club
The Tribe Club provides annual support for athletics scholarships. Support from former William & Mary athletes as well as friends of Tribe Athletics provides current students with a championship academic and athletic experience. Every dollar provided for scholarships by the Tribe Club frees a dollar of departmental resources to be spent on other operational needs. In this manner, scholarship dollars have a dual impact in advancing Tribe Athletics.
Expendable and Endowed Scholarships
Expendable scholarship funds and named scholarship endowments provide the opportunity for athletes to attend William & Mary and compete for the Tribe. William & Mary currently funds 220 athletics scholarships despite being allowed 258 by the NCAA based on the sports sponsored by Tribe Athletics. We seek to increase funding to reach the full complement of scholarships allowed, propelling Tribe Athletics ahead for decades to come.