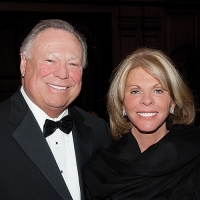 Jim '62 J.D. '64, LL.D. '00 and Fran '66 McGlothlin

"We both believe in the power of giving back and its ability to change or improve a worthy cause. We hope our gift to William & Mary will help it become an even stronger institution, graduating superbly educated students who are well equipped to go out in the world and do great things."
Jim McGlothlin is founding partner of United Coal Company, and the Chairman, CEO and sole owner of The United Company. He has served on the boards of CSX Corporation, Bassett Furniture, Dominion Bankshares and Star Oil & Gas. Today, he divides his time between his two great passions — business and philanthropy — and serving on the boards of the Virginia Museum of Fine Arts, the Mountain Mission School and the PGA Tour. Jim is also National Trustee of the First Tee, a charitable organization that uses golf to provide boys and girls of all walks of life with educational programs that build character, instill values and promote healthy choices. Fran McGlothlin is senior vice president of UC Fine Art, Inc., in New York, as well as a board member of both the United Company Charitable Foundation and the James W. and Frances G. McGlothlin Foundation. A longtime advocate and collector of fine art, specifically American Impressionism, Fran is a former member of the visiting committee to the department of paintings at Boston's Museum of Fine Arts, a former member of the acquisition trust at the Orlando Museum of Art, and a former member of the board of trustees at the Virginia Museum of Fine Arts.