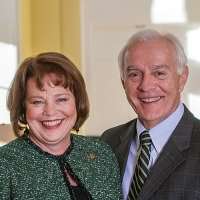 Rob '75 and Jean '75 Estes

"William & Mary is home to us. It is where we met. It is where we learned many of our life lessons, and it is where we made most of our lifelong friends. We are grateful that we can give back."
Before Rob Estes was president and CEO of Estes Express Lines, he was a student majoring in business here at the university and a member of Pi Kappa Alpha. It was here that he met his wife, Jean, who was majoring in elementary education and a member of Pi Beta Phi. Today, the two are deeply committed to each other and to William & Mary.
Rob served on the Class of 1974's 30th and 40th Reunion gift committees, and has been a trustee of the Raymond A. Mason School of Business's Foundation board since 2004. Jean co-chaired her class's 30th Reunion gift committee, and served as a trustee of the William & Mary Foundation from 2006 to 2012. Together, they have generously supported the College's 1693 Scholars Program and the Raymond A. Mason School of Business. They also created the Estes Challenge, which matched dollar-for-dollar donations (up to $125,000) made to the Mason School's annual fund.
You can learn more about the Estes Challenge here.