Undergraduate Scholarships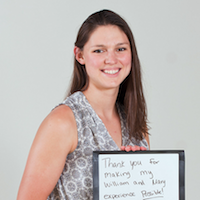 "I love developing relationships with my professors. They are so accessible, friendly and, of course, unique. Talking to students at other schools has helped me realize how special my professor-student relationship is at William & Mary. Thank you so much for your gift to William & Mary; for me it makes a huge difference and it helps me afford the college I love as an out-of-state student."
Jessica Laury '19
Scholarships are powerful; they change lives for the better. And they directly affect the caliber of William & Mary's student body, the quality of the academic experience and the prestige of the university. Every exceptional student admitted to William & Mary should have the opportunity to attend and to reach his or her full potential without financial burden. As part of our Affording Opportunity scholarships effort, William & Mary aims to raise $225 million for undergraduate scholarships support to ensure that the nation's most able students can benefit from the extraordinary and distinct education we provide.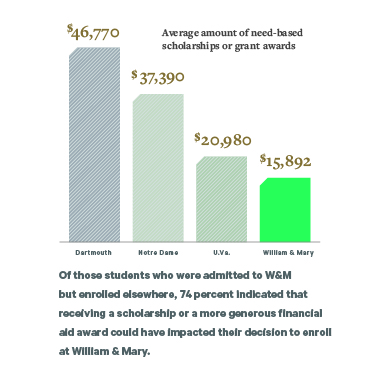 Scholarships Impact Fund
Gifts to the Scholarships Impact Fund are the most effective means of making a difference in the lives of students today. This flexible, immediate-used fund allows the university to boost financial aid packages each year and reduce the amount of debt a student may need to take on to afford the opportunity of attending.
Scholarship Endowments
When you create a scholarship endowment, you ensure that generations of students to come will have the opportunity to reach their full potential as members of the William & Mary community. Learn more about scholarship naming opportunities.
Scholarships Programs
The 1693 Scholars are selected by faculty on the basis of their academic records to receive a significant financial award and the opportunity to work closely with distinguished faculty mentors and engage in independent research projects.
A James Monroe Scholarship, given to the top 10% of each incoming freshman class, allows recipients to enhance their education by pursuing self-designed summer research projects.
William & Mary Scholars are academically distinguished students who have overcome unusual adversity and/or are members of underrepresented groups.
Honors Fellowships provide an opportunity for rising seniors to receive funding for their thesis research.